About DME
Founded in 1975, D. Martin Enterprises is a small family run business that prides itself in bringing quality products and service to the US steel industry. A leader in providing skilled labor forces, non-ferrous and ferrous scrap, top of the line refractories, and equipment to mini-mills across the country, D. Martin Enterprises has a strong commitment to their customers. With nearly forty years of experience, DME consistently seeks out innovative ways to ensure its vendors and customers achieve maximum profits.
Our History
When I started Martin Enterprises, I thought I would be in business until I could retire and that would end Martin Enterprises. I am very pleased and proud of what Martin Enterprises has become since I left. - Don Martin, Sr.
A Humble Beginning
In 1975 Don Martin, Sr. opened the first DME office in the basement of his family home. A salesman to the electric furnace mills for the majority of his career, Don used his contacts at many of the refractory suppliers to create a business model unknown at the time to the industry. Originally setting out to create a company that would allow him to retire, Don quickly found that his small business could grow over time. Unable to handle everything alone, he enlisted the help of his wife, Betty, and together the two of them planted the seeds of D. Martin Enterprises.
A Family Affair
A Pittsburgh, PA native, Don was first introduced to the steel industry by his father-in-law who was a superintendent at J&L Steel Company. During the summer preceding his entry into college Don was a laborer in the finishing mill at J&L. Upon graduating Penn State with a degree in engineering, Harbison Walker Refractories hired Don and years later he was transferred to Chicago with his young family.
Several career moves later, as his children were beginning to leave the house, Don founded DME and set to work with Betty. As business grew, Don and Betty looked to their children to join the family business. 15 years after founding the company, Don felt ready to hand the business over to his sons, who currently run DME and FCMS.
And The Story Continues
Today, DME retains the same values Don passed on to his sons: hard work, honesty, and perseverance. While DME has grown from two employees to over forty, the key element of the company's philosophy remains, great relationships, whether by blood or by proxy, are the keys to any successful business.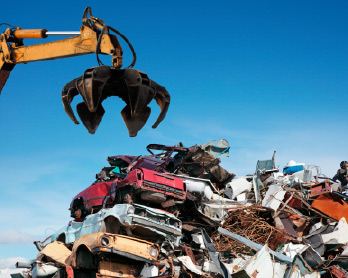 D. Martin Enterprises consistently maintains relationships with various scrap buyers across the United States. Our business practices are honest, legit and well executed. The experts in our Applied Process Group have the ability to test and analyze all types of scrap so that there is never a mystery as to what you'll receive. With over thirty years of experience we can buy and place scrap easily and efficiently.
We currently buy: A & B scrap, rolls, ladle and tundish skulls, lip rings, DRI fines, HBI fines, HBI, turnings, secondary plate, scrap billets, and scrap slabs.
Through our scrap subsidiary, Total Recycling Services, we also have the ability to conduct scrap recovery. We are capable of accessing mines, excavating old dumpsites, and looking for environmentally friendly ways to recover neglected scrap.
First Class Mill Services

In 1996 First Class Mill Services, a subsidiary of D. Martin Enterprises, became the first US company to develop a Cost Per Ton contract for refractory supply.
Starting with its original contract at North Star Steel Kingman, AZ, FCMS has grown from a start up group to six successful and ongoing CPT Sites. Placing emphasis on efficiency and safety, First Class is currently one of the top three Cost Per Ton contract providers in the United States, supplying mini-mills across the country with highly skilled labor forces and top of the line refractories.
Outside of its CPT contracts, FCMS serves as an installation group for DME customers. Our experienced team has the ability to line any vessel in a Mini-Mill. In addition to these services, FCMS possesses the equipment and knowledge to lance or torch large skulls and spills and can perform slag pot repair of all types from welding to burning out stickers.
First Class Mill Services Sites
SDI Pittsboro
FCMS provides a Refractory Management Cost Per Ton program at this site, providing all refractory materials and managing all aspects of said program. This includes purchasing, inventory, tracking and collecting all data.
For more information contact site manager:
Travis Timmons
NLMK
FCMS runs a Full Line Service Cost Per Ton contract at this site, providing labor and materials to service their Electric Arc Furnace, Ladles and Tundish.
For more information contact site managers:
Justin Tomkiewicz & Tim Viers
Gerdau St. Paul
FCMS works in conjunction with ANH Refractories to provide an efficient CPT contract at this site.
For more information contact site manager:
Kyle Harber
Gerdau California
FCMS works in conjunction with ANH Refractories to provide an efficient CPT contract at this site.
For more information contact site manager:
Tom Mullen
SDI Butler
FCMS runs a Refractory Supply Cost Per Ton contract at this site providing refractory materials to service their Electric Arc Furnace, Ladles and Tundish.
For more information contact site manager:
Brent Hatcher
Charter Steel Cleveland
FCMS currently provides service and materials for Charter Steel's ladles.
For more information contact site manager:
Bill Harber
Email Us
D. Martin Enterprises
First Class Mill Services
D. Martin Enterprises / First Class Mill Services
320 Commerce Square
Michigan City, IN 46360
P. 219-872-8211
F. 219-874-8269